Deerfield-News. com-Deerfield Beach, Fl-
A post to several Facebook groups including ours "Deerfield Beach" from Robert Messier has gotten the attention of city commissioner Michael Hudak who has posted a response. Now if the city would get going with the repairs needed at the beach at the same time it would be an even better  thing.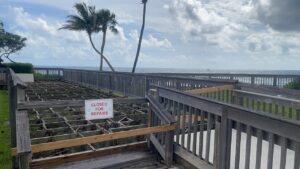 Pioneer Park Boat Ramp Update –
Hello All, I know the Boat Ramp has been a challenge for quite some time. I have been working with the City Staff to resolve this issue and I wanted to give you all a little update.
The damage to the piers and the docks required the City to design and permit both demolition and reconstruction because there are several permitting agencies involved (Broward County, South Florida Water Management District, and the Army Corps of Engineers).
The City received the final permits this week and we are now moving forward. Staff will work to complete initial demolition over the next two weeks. Concurrently, they will perform some minor repairs to enable the most north dock recently damaged by a vehicle incident to be brought back into service until the permanent solution is constructed.
Our intent is to phase these improvements in to avoid a complete closure or at the very least long-term closure of the boat ramp.
We realize we will experience increased traffic due to the Boca Raton boat ramp closure and will work to plan the timing of construction.
I know it seems like nothing has been done, in quite some time, but The City is required to follow proper protocols and we can finally move forward. — in
Deerfield Beach, Florida
.