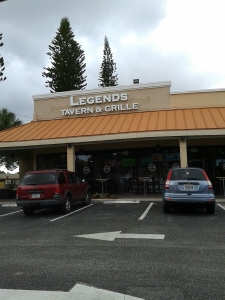 Deerfield-News. com-Deerfield Beach, Fl-First up is Legends Tavern with 12 violations 3 of which are a high priority.
NOT THE FIRST TIME LEGENDS IS ON THIS LIST, COME ON YOU CAN DO BETTER!
Name: LEGENDS TAVERN & GRILLE License Number: SEA1623774
Rank: Seating License Expiration Date: 12/01/2021
Primary Status: Current Secondary Status: Active
Location Address: 1391 S MILITARY TRAIL
DEERFIELD BEACH, FL 33442
Inspection Type Inspection Date Result High Priority Violations Intermediate Violations Basic Violations
Routine – Food 01/12/2021 Follow-up Inspection Required
Violations require further review, but are not an immediate threat to the public.
More information about inspections.
A summary of the violations found during the inspection are listed below. The department cites violations of Florida's sanitation and safety laws, which are based on the standards of U.S. Food and Drug Administration's Food Code. High Priority violations are those which could contribute directly to a foodborne illness or injury and include items such as cooking, reheating, cooling and hand-washing. Intermediate violations are those which, if not addressed, could lead to risk factors that contribute to foodborne illness or injury. These violations include personnel training, documentation or record keeping and labeling. Basic violations are those which are considered best practices to implement. While most establishments correct all violations in a timely manner (often during the inspection), the division's procedures are designed to compel compliance with all violations through follow-up visits, administration action or closure when necessary.
16-23-4 Basic – Accumulation of lime scale on the inside of the dishmachine. **Warning**
12B-07-4 Basic – Employee beverage container on a food preparation table or over/next to clean equipment/utensils. -Observed employee beverage container stored on food preparation on cookline. **Corrected On-Site** **Warning**
08B-38-4 Basic – Food stored on floor. -Observed containers with food items stored on walk in cooler floor. **Warning**
08B-54-4 Basic – Uncovered food stored near sink exposed to splash. -Observed a open container with cut lemon stored next to handwash sink at wait station. Operator removed and stored properly. **Corrected On-Site** **Warning**
14-12-4 Basic – Utensils in poor condition. -Observed a spatula with deep chipped. **Warning**
21-12-4 Basic – Wet wiping cloth not stored in sanitizing solution between uses. **Warning**
03D-02-5 High Priority – Cooked/heated time/temperature control for safety food not cooled from 135 degrees Fahrenheit to 41 degrees Fahrenheit within 6 hours. -Observed cooked ribs in walk in cooler at 44-45 degrees Fahrenheit. As per operator, ribs were cooked on 01/11/2021. Cooked ribs did not cooled from 135 degrees Fahrenheit to 41 degrees Fahrenheit in a total of 6 hours. See stop sale. **Warning**
01B-37-5 High Priority – Cooked/heated time/temperature control for safety food not cooled from 135 degrees Fahrenheit to 41 degrees Fahrenheit within six hours. -Observed cooked ribs in walk in cooler at 44-45 degrees Fahrenheit. As per operator, ribs were cooked on 01/11/2021. Cooked ribs did not cooled from 135 degrees Fahrenheit to 41 degrees Fahrenheit in a total of 6 hours. See stop sale **Warning**
03A-02-5 High Priority – Time/temperature control for safety food cold held at greater than 41 degrees Fahrenheit. -Observed precooked chicken wings cold held at 44 degrees Fahrenheit in flip top cooler. As per operator, chicken wings were transfer from walk in cooler to flip top cooler 1 hour prior to the inspection. Operator place ice pack on item to rapidly expedite the temperature. **Corrective Action Taken** **Warning**
22-22-4 Intermediate – 1. Encrusted material on can opener blade. 2. Observed brown like substance buildup inside ice machine. **Warning**
31A-02-4 Intermediate – Handwash sink not accessible for employee use due to being blocked by garbage can on cookline. **Warning**
53A-05-6 Intermediate – No currently certified food service manager on duty with four or more employees engaged in food preparation/handling. A list of accredited food manager certification examination providers can be found at
http://www.myfloridalicense.com/DBPR/hotels-restaurants/food-lodging/food-manager/
**Warning**