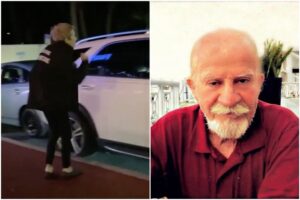 Screenshot via Twitter/Photo David Yuzuk
Deerfield-News. com-Deerfield Beach, Fl-A 64-year-old retired stenographer for the Miami Police Department homicide unit dressed in a Miami Police windbreaker is caught on video screaming amongst other things. "Move your f*cking car you stupid Jew … just because you're Jewish and a Democrat doesn't give you the right to stay there" Socolov became enraged when she could not move her car from her parking spot as another car was blocking hers. The incident happened in Boca according to PBSO report Leslie Socolov,64  was arrested. She was charged with DUi and disorderly conduct. According to the Palm Beach County Sheriff's Office arrest report, she blew breath-alcohol samples of .151 and .157.
Socolov while she was employed by the Miami Police Department struck and killed a pedestrian in 2015 and no charges were ever filed. Socolov was employed by Miami Police Homicide unit when this hit and run that caused the death of Richard Flaherty after midnight on May 9, 2015, Socolov was operating a vehicle that hit 69-year-old, Flaherty. Maybe it is time the State Attorney takes a look at this case again.
Vulgar language warning ⚠️ – a @MiamiDadePD homicide employee was caught on video in an INSANE antisemitic rant over a parking situation.

"Move your f*cking car you stupid Jew … just because you're Jewish and a Democrat doesn't give you the right to stay there" pic.twitter.com/qD3wyU1mrK

— StopAntisemitism.org (@StopAntisemites) February 3, 2021
REPORT