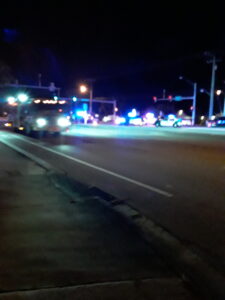 Deerfield-News. Com-Deerfield Beach, Fl-Yesterday there was an accident about ten o'clock pm on West Hillsboro and N.W 41 Ave. BSO had the westbound lanes temporarily closed.
Here is the statement of what happened from BSO Fire Rescue PIO Chief Michael Kane-
This incident involved a motorcycle and at least one other vehicle. It appears for unknown reasons the motorcycle and vehicle collided, ejecting a male victim from the motorcycle. The man suffered severe injuries to his arm and was transported as a trauma alert to Broward Health North.
Two other patients were transported from the other vehicle(s).
BSO will be investigating the cause of the incident.