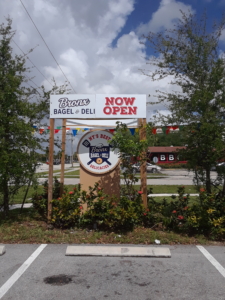 Deerfield-News. com-Deerfield Beach, Fl-Once again with a disappointing inspection is Bronx Bagel and Deli with seventeen violations including flies.
Name: BRONX BAGEL & DELI License Number: SEA1624752
Rank: Seating License Expiration Date: 12/01/2021
Primary Status: Current Secondary Status: Active
Location Address: 230 S POWERLINE RD
DEERFIELD BEACH, FL 33442
Inspection Type Inspection Date Result High Priority Violations Intermediate Violations Basic Violations
Routine – Food 12/08/2020 Met Inspection Standards
More information about inspections.
A summary of the violations found during the inspection are listed below. The department cites violations of Florida's sanitation and safety laws, which are based on the standards of U.S. Food and Drug Administration's Food Code. High Priority violations are those which could contribute directly to a foodborne illness or injury and include items such as cooking, reheating, cooling and hand-washing. Intermediate violations are those which, if not addressed, could lead to risk factors that contribute to foodborne illness or injury. These violations include personnel training, documentation or record keeping and labeling. Basic violations are those which are considered best practices to implement. While most establishments correct all violations in a timely manner (often during the inspection), the division's procedures are designed to compel compliance with all violations through follow-up visits, administration action or closure when necessary.
23-08-4 Basic – Can opener holster with accumulated slime/debris.
14-21-4 Basic – Can opener blade not readily removable for cleaning or replacement.
40-06-5 Basic – Employee personal items stored in or above a food preparation area, food, clean equipment and utensils, or single-service items. -Observed employee handbag store on food preparation table.
35B-01-4 Basic – Exterior door has a gap at the threshold that opens to the outside.
36-22-4 Basic – Floor area(s) covered with standing water. Walk in cooler
08B-38-4 Basic – Food stored on floor. -Observed cases with food items stored on walk in cooler and freezer floor. -Observed containers with cooking oil stored on kitchen floor. **Repeat Violation**
14-70-4 Basic – Ice buildup in walk-in freezer.
31B-04-4 Basic – No handwashing sign provided at a hand sink used by food employees bent to 3 compartment sink. **Repeat Violation**
36-27-5 Basic – Wall soiled with accumulated grease, food debris, and dust throughout kitchen.
21-12-4 Basic – Wet wiping cloth not stored in sanitizing solution between uses. **Repeat Violation**
02D-01-5 Basic – Working containers of food removed from original container not identified by common name. -Observed flour removed from the original container not identified by common name.
35A-02-6 High Priority – Live, small flying insects in kitchen, food preparation area, food storage area and/or bar area. -Observed 1 live flying insect in dishwashing area.
08A-05-6 High Priority – Raw animal food stored over ready-to-eat food. -Observed raw shell eggs stored over sauerkraut and dressing in flip top cooler. Operator removed and stored properly. **Corrected On-Site**
03A-02-5 High Priority – Time/temperature control for safety food cold held at greater than 41 degrees Fahrenheit. -Observed pooled eggs cold held at 46 degrees Fahrenheit on cookline. As per operator, eggs were place on ice 1.5 hours prior to the inspection. Operator replenish ice got quick chill. **Corrective Action Taken**
03B-01-6 High Priority – Time/temperature control for safety food hot held at less than 135 degrees Fahrenheit or above. -Observed soup (126°F – Hot Holding); grits (128°F – Hot Holding); oatmeal (128°F – Cold Holding). Operator increase the temperature on the unit.
29-42-4 High Priority – Vacuum breaker missing at mop sink faucet or on fitting/splitter added to mop sink faucet.
22-22-4 Intermediate – Encrusted material on can opener blade. -Observed old food residue buildup on can opener blade. -Interior of oven has heavy accumulation of black substance/grease/food debris. -Observed interior of microwave soiled with old food residue.