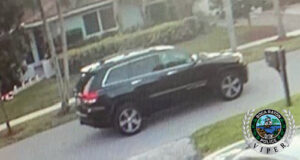 Deerfield-News. com-Deerfield Beach, Fl-From Boca Raton Police-
Boca Raton Police investigate a suspicious vehicle
On Wednesday, December 2, 2020 around 4:25 p.m., a black Jeep Grand Cherokee approached a 14-year-old girl as she was walking along the 1500 block of SW 17th Street. The male driver said "Hey, hey!" to the girl and a witness saw the interaction and quickly intervened. The driver drove off and approached a 12-year-old girl a short distance away. The male did not say anything, but he signaled with his fingers for the girl to come to his vehicle. The girl ran away and the driver again drove off. Both girls returned home safely and the incidents were reported to Boca Raton Police. The male was described as white or Hispanic, possibly in his 30s, with pulled-back dark hair and slight facial hair.
Anyone with information about this incident is asked to contact Detective Scott Hanley at (561) 338-1344. Residents in the area are encouraged to review their surveillance video and report any findings related to this investigation.
The actual vehicle is pictured above.