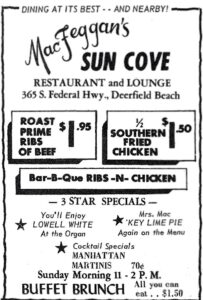 Deerfield-News. com-Deerfield Beach, Fl-Remember when this was a Deerfield beach landmark?.
Photo-George MacFeggan
From Walter Lagraves-The Sun Cove was about 1/4 mile south of Hillsborough on the west side of US 1. It was a very very special place. It was upscale, valet parking, extraordinary food including whole baked chicken served flaming on a sword. Pat MacFeggan and Gary MacFeggan were the owners. Mrs. Mac made fresh Key Lime pies every day, they were topped with oven browned meringue…..delicious. It was a "destination" restaurant….people would drive from Ft Laud and Palm Beach….the parking lot was always packed with Caddy's and Lincoln Continentals. A very special place.