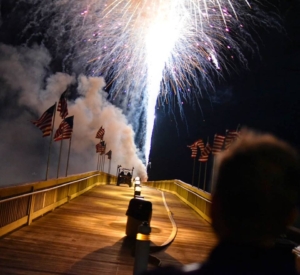 Deerfield-News.com-Deerfield Beach, Fl- With all the ongoing cancellations that are being caused by the coronavirus, fireworks on the fourth are now at the top of the list. With Deerfield  Beach, and Palm Beach County announcing cancellations, South Floridians were looking forward to something.
POMPANO BEACH IS STEPPING UP TO DELIVER.
Pompano Beach has just announced it will hold fireworks from a secret location and broadcast it live. Pompano Beach City commissioner  Andrea McGee said " The fireworks will commence Saturday, July 4 at 9 p.m. from "an undisclosed central location" in the city "so everyone can tune in and celebrate the birth of our nation together."
POMPANO BEACH JUST BROKE THE NEWS THIS EVENING DURING THE CITY COMMISSION MEETING.
Boca Raton's plans have also been canceled due to Coronavirus. Delray Beach also has canceled their plans for fireworks on the fourth.
Breaking News stay tuned for updates of additional cities' information as they make their final decisions.