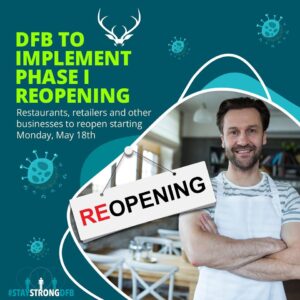 Deerfield-News.com-Deerfield Beach,Fl-City of #DFB announces that retailers, restaurants & personal care businesses like barber shops & salons may reopen on a limited basis, Mon, May 18th. To read the entire list of reopenings and the guidelines click here: http://ow.ly/8Ujv50zHrcr #DeerfieldBeach #DFB #Broward
Deerfield Beach Sets May 18th for Phase 1 Reopening of Restaurants, Retailers and Other Businesses
Following Governor Ron DeSantis' announcement, the City of Deerfield Beach is announcing that retailers, restaurants, and personal care businesses such as barbershops and salons may reopen on a limited basis on Monday, May 18, 2020.
Broward County conducted a COVID-19 Reopening Workshop to plan for Phase 1 reopening with continued adherence to the Centers for Disease Control (CDC) Guidelines regarding social distancing and facial coverings.  General business guidelines for businesses that choose to open can be found here.
According to the plan and Broward County Emergency Order 20-10, restaurants and food establishments may operate their indoor seating areas at no more than 50% of the maximum indoor seating capacity of the establishment. Outdoor seating is permitted subject to the six-foot distancing requirement. Additional restaurant and food establishment guidelines for operation and sanitation can be found here.  Deerfield Beach is temporarily allowing expanded outdoor seating for businesses that request a special permit through the Department of Planning and Development Services or via email at web.planning@deerfield-beach.com. Expanded outdoor seating is subject to compliance with guidelines referenced above, CDC social distancing guidelines, and proper maintenance of pedestrian accessibility and safety. The application may be downloaded here.
Personal services businesses such as hair and nail salons will be required to operate by appointment only to limit occupant capacity. Additional guidelines for such personal services businesses can be found on page 18 of the Broward County order. Club swimming pools, excluding pools that are part of a commercial fitness facility, may operate at up to 50% capacity.
Indoor retail establishments must limit occupancy to no more than fifty percent (50%) of the maximum capacity of the retail location and must abide by the safety guidelines issued by the CDC. Additional operational and sanitation guidelines for retailers may be found here.
Museums may open at no more than 25 percent of their building occupancy while interactive exhibits and child play areas must remain closed. Surgical centers, dental offices, orthodontic offices, endodontic offices, or other healthcare practitioners may perform elective surgical procedures.
Businesses that will remain closed at this time include indoor movie theaters, commercial gyms, schools, large sporting venues, and vacation rentals. Beaches will also remain closed.
For the full Broward County Reopening Workshop, click here.
For Reopening America guidance, visit the CDC's guidance for cleaning and disinfecting web site.
For Reopening Retail Food Establishments guidance, visit the Food and Drug Administration web site, or the National Restaurant Association website.
For additional information, contact Gigi Chazu at 954-395-6051 or gchazu@deerfield-beach.com