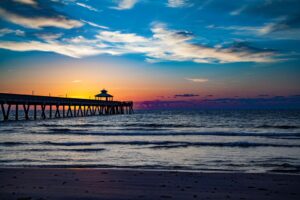 Photo-Paul Rogers
Deerfield-News.com-Deerfield Beach, Fl-Well folks here is your shot to do all those things you have been complaining about not doing. Well except for the beach, that you have to travel farther north for. As of midnight last night Boca Raton, West Boca (that unincorporated part where most folks really live) as far up as Pahokee they will welcome you with open arms at a social distance of course.
Restaurants, barbershops, beauty parlors, and nail salons are now open for business across the county line. These are some of the guidelines the state of Florida has in place for those that will open.
Restaurants and food establishments licensed under Chapters 500 or 509, Florida Statutes, may allow on-premises consumption of food and beverage, so long as they adopt appropriate social distancing measures and limit their indoor occupancy to no more than 25 percent of their building occupancy. In addition, outdoor seating is permissible with appropriate social distancing. Appropriate social distancing requires maintaining a minimum of 6 feet between parties, only seating parties of 10 or fewer people and keeping bar counters closed to seating.
· In-store retail sales establishments may open storefronts if they operate at no more than 25 percent of their building occupancy and abide by the safety guidelines issued by the CDC and OSHA.
· Museums and libraries may open at no more than 25 percent of their building occupancy, provided, however, that (a) local public museums and local public libraries may operate only if permitted by local government, and (b) any components of museums or libraries that have interactive functions or exhibits, including child play areas, remain closed.
Deerfield-news.com will be keeping an eye on the COVID-19 numbers and the difference from today forward between counties.