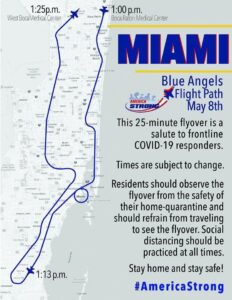 Deerfield-News.com-Deerfiedlbeach, Fl-From the city of Boca Raton.
Exciting! The U.S. Navy Blue Angels will be flying over South Florida tomorrow (Friday) between 1:00pm and 1:25pm. The Blue Angels have been busy the last few weeks flying over U.S. cities to honor health care workers and first responders.
According to the flight path released Wednesday evening, the Blue Angels will fly over Boca Raton and head south to Miami before reaching the Homestead area around 1:13 p.m.
The pilots will then head back north and fly over West Boca Medical Center around 1:25 p.m.
The event is a special way to honor and show support for those on the frontlines of the COVID-19 pandemic.