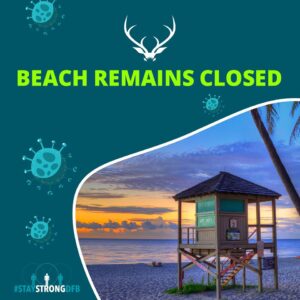 Deerfield-news.com-Deerfield Beach, Fl-
PARKS AND BEACHES REMAINS CLOSED!
We are receiving many inquiries asking when the beach and parks will re-open. South Florida is still a hot spot for the 
#COVID19
 pandemic. We understand you want to get out and about, but we are not out of the woods yet. The statement that Gov DeSantis gave on April 18th regarding the opening of SOME beaches DOES NOT apply to us at this time. We are working close
ly with state and local officials along with neighboring communities to coordinate a phased regional re-opening of businesses, city facilities, and beaches. The phased approach is based on YOUR adherence to existing safer at home and social distancing orders, the number of cases in the community, and the impact on the healthcare system.
Additionally, 
Broward Sheriff's Office
 will be increasing patrols AND CAN ISSUE a $500 FINE AND POSSIBLE ARREST, to those in violation of the current orders.Be part of the solution, not the problem. We really need EVERYONE's cooperation to get through this crisis. We are ALL going through this together. Keep your focus. 
#LoveDFB
#StayHome
#StaySafe
#StayStrongDFB