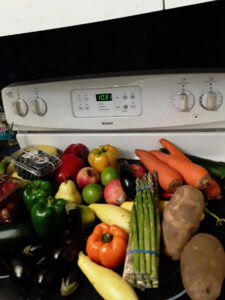 Deerfield News.com-Deerfield Beach, Fl-Supporting local farmers, is as easy as going to Bedners in Boynton on 441. I have been reading the posts day after day on Facebook. So today we drove up to the farm, the process was quick and easy. Roll down your window pop the trunk and fresh veggies and fruits are put in pay and then drive off. They also have a store fully stocked for those who chose to go inside.
Here is more about Beedners from their Facebook page.
People talk about "apple cider donuts", "pumpkin farm" and "corn maze"
The BiG Box Fresh Produce Box $29.99 Thursday, April 9th @ 9:00 until sold out. Boynton location only.
4 Banana
1 Romaine *
3 Organic fuji Apples
5 Italian Eggplant *
1 Local Blueberries 4 Sweet Corn *
1 Raspberries
3 Loose Beets *
1 Asparagus
1 Pint Cherry Tomato *
2 Bartlett Pears
1 Garlic
3 Zucchini *
3 Carrots
3 Yellow Squash *
1 Sweet Onion
1 Yellow Pepper *
2 Baking Potato
1 Orange Pepper *
2 Red Pepper *
2 Green Pepper *
3 Limes
*HOMEGROWN BY BEDNER'S*
Also available: Local, Farm Fresh, Cage Free Eggs $4.99 dozen. Fresh Boneless Skinless Chicken Breasts $5.99/lb., Ribeye Steaks-sourcing from different vendors so pricing not currently available, Fresh OJ, Local Baked Bread & Home Grown Sunflowers. Please check for board when you pull in to see what is available & pricing.
Credit card only at time of purchase. No pre purchase or pre payment available.
Curbside Pickup area is to the right of market entrance off Lee Road. Please look for signs & Bedner team in orange vests directing traffic. Very easy process; just pull up, tell us what you'd like, pop your trunk, swipe your card & away you go. We know some of you may be buying for family & friends so no limit per car.
Both markets are open & fully stocked for your shopping convenience. We will be CLOSED on Sunday, April 12.
Thank you for supporting your local farmer!