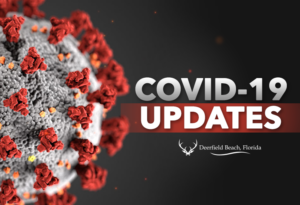 Deerfield-News.com-Deerfield Beach, Fl-
City of Deerfield Beach Issues Further Restrictions Including Shutdown of Boat Ramp
Effective Monday, March 23, 2020, at 6:00 AM, the Pioneer Park boat ramp located at 217 NE 5th Avenue, Deerfield Beach, will be closed until further notice.
Updated Restrictions to the Usage of the International Fishing Pier
Effective Monday, March 23, at 6:00 AM, the International Fishing Pier, 200 NE 21st Avenue, will be open only to Deerfield Beach residents for fishing. Upon check-in, anglers will be required to show photo identification with a Deerfield Beach address. There is no sightseeing allowed on the Pier at this time.
It is of the utmost importance for residents to understand that the City of Deerfield Beach is in a state of emergency. Current guidelines call for gatherings to be limited to groups of 10 or fewer. Though this might seem like a sacrifice right now, the health and well-being of the people of this city depend on the personal responsibility and cooperation of its residents. We must defeat COVID-19. Those who are refusing to follow the guidelines are putting many at risk, perhaps your own family and friends. Please be a good neighbor.