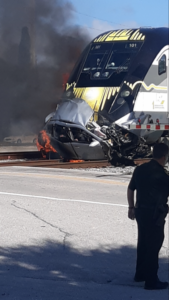 Deerfield-News.com-Deerfield Beach, Fl-   Yesterday another person lost their life trying to beat the Brightline train according to eyewitnesses in Pompano Beach. Here is the statement from BSO about the accident, yesterday.
The BSO Public Information Office is currently working a developing incident regarding a train versus vehicle located at: West Atlantic Boulevard and North Dixie Highway.
Public Information Officer Gerdy St. Louis is currently gathering the details. Here's what we know so far:
At approximately 10:12 a.m. Broward Regional Communications received a call regarding a Brightline train versus a vehicle at the intersection of West Atlantic Boulevard and North Dixie Highway in Pompano Beach. BSO deputies and Pompano Beach Fire Rescue were dispatched and are currently on scene. One fatality has been confirmed. Motorists are advised to avoid the area for several hours.Traffic homicide detectives are on their way to investigate.
We have reported on the high number of train accidents in the tri-county area many involving deaths. Our count has FORTY-TWO deaths between cars and pedestrians, bikes and trains in Palm Beach, Broward, and Dade counties. Most of which involve Brightline.
Deerfield-News.com is awaiting public records from BSO pertaining to train accidents in Deerfield Beach and Broward County we will be following up with the statistics about these occurrences.
Brightline has just recently announced a safety initiative including the use of drones to notify those walking on or near the tracks of the dangers. According to the statistics, the death rate for Brightline is the highest in the country for any railroad. Brightlines death average per mile traveled by train is higher than any other train in the  USA. Governor Ron DeSantis has called for an investigation into Brightline and the frequency of accidents that have happened with them.
We understand many were suicides other were pedestrians and motorists trying to beat the gates or run the gates. That still does not account for all of the 42 deaths that certainly checking the gates and the timing sequence, as well as Brighline's use of cameras and drones which they are now deploying may clarify exactly what if anything else is going on. Folks do not try and outrun the train.
Photo- R Thomas Facebook