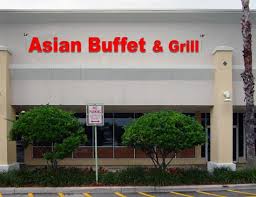 Deerfield-News.com Deerfield Beach, Fl-Happy New Year, I believe  I have won the over/under in our office pool of how long would it be before Asian Buffet And Grill had a bad inspection. State of Florida inspectors had to come back today for another follow-up inspection at the most inspected and closed restaurant in Broward County,
COPYRIGHT-All Rights Reserved Deerfield-News.com-2014-2020
Name: ASIAN BUFFET & GRILL License Number: SEA1620527
Rank: Seating License Expiration Date: 12/01/2020
Primary Status: Current Secondary Status: Active
Location Address: 240 S FEDERAL HIGHWAY
DEERFIELD BEACH, FL 33441
Inspection Type Inspection Date Result High Priority Violations Intermediate Violations Basic Violations
Complaint Full 01/02/2020 Follow-up Inspection Required
Violations require further review, but are not an immediate threat to the public.
More information about inspections.
A summary of the violations found during the inspection are listed below. The department cites violations of Florida's sanitation and safety laws, which are based on the standards of U.S. Food and Drug Administration's Food Code. High Priority violations are those which could contribute directly to a foodborne illness or injury and include items such as cooking, reheating, cooling and hand-washing. Intermediate violations are those which, if not addressed, could lead to risk factors that contribute to foodborne illness or injury. These violations include personnel training, documentation or record keeping and labeling. Basic violations are those which are considered best practices to implement. While most establishments correct all violations in a timely manner (often during the inspection), the division's procedures are designed to compel compliance with all violations through follow-up visits, administration action or closure when necessary.
08B-45-4 Basic – Case/container/bag of food stored on floor in walk-in cooler/freezer. Box of Pineapple, carrots and sauce on floor in walk-in cooler. **Warning**
36-34-5 Basic – Ceiling/ceiling tiles/vents soiled with accumulated food debris, grease, dust, or mold-like substance. In prep area. **Warning**
24-06-4 Basic – Clean utensils or equipment stored in dirty drawer or rack. Clean plates stored in rack that is soiled. Operator cleaned plate rack. **Corrected On-Site** **Warning**
35A-03-4 Basic – Dead roaches on premises. 1 dead roach on floor at end of hibachi line 1 dead roach on floor under handwash sink at end of cookline inside kitchen. Operator removed dead roaches, cleaned and sanitized area. **Corrected On-Site** **Warning**
13-03-4 Basic – Employee with no hair restraint while engaging in food preparation. Employees put on hats. **Corrected On-Site** **Warning**
24-08-4 Basic – Equipment and utensils not properly air-dried – wet nesting. Drink glasses in sushi station, some plates at buffet and metal pans in kitchen. **Repeat Violation** **Warning**
14-11-4 Basic – Equipment in poor repair. Door broken on Beverage air cooler at sushi station. Door broken on fliptop cooler at cookline. **Warning**
03A-02-4 High Priority – Potentially hazardous (time/temperature control for safety) food cold held at greater than 41 degrees Fahrenheit. Glassdoor reach-in cooler – salmon (50°F – Cold Holding); raw chicken (47°F – Cold Holding), crab salad (46°F – Cold Holding). Food in cooler less than four hours. Operator moved to walk-in cooler to quick chill. **Corrective Action Taken** **Warning**
22-21-4 Intermediate – Accumulation of black/green mold-like substance inside the ice bin. **Warning**
22-24-4 Intermediate – Accumulation of black/green mold-like substance on/around soda dispensing nozzles. In sushi station. **Warning**
01C-05-4 Intermediate – Clam/mussel/oyster tags not maintained in chronological order according to the last date they were served in the establishment. **Warning**
01C-03-4 Intermediate – Clam/mussel/oyster tags not marked with last date served. Some missing date. **Repeat Violation** **Warning**