---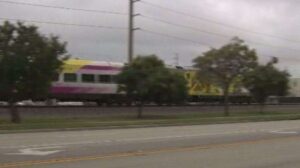 Deerfield-News.com-Deerfield Beach, Fl-First day of the New year brings another,  Brightline train vs pedestrian accident.
Today's incident occurred after 3 pm and resulted in the death of one person The incident happened in the 300 block of South Dixie Highway in Pompano. According to the Associated Press Brightline has the highest rate of deaths caused by a train in the United States. We at Deerfield-News, com have counted twenty-one deaths in the tri-county area by train in less than 18 months with the majority being caused by Brightline/Virgin.
According to the Associated  Press, more than 40 people have been killed by Brightline trains. Now we understand many of these accidents are at the fault of pedestrians and motorists trying to beat the gates, others suicide. That said we still believe there may be something inherently wrong with the new higher-speed rail and the gate timing sequence. Governor Ron DeSantis has ordered an investigation into Brightline and the high amount of accidents and deaths.
We have contacted BSO and will post an update when further information is received from them about today's accident.
COPYRIGHT-All Rights Reserved Deerfield-News.com-2014-2020