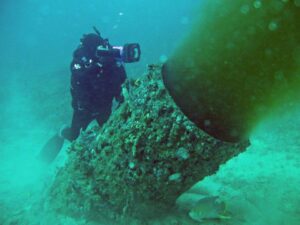 PHOTO-REDDIT.COM-NOW CLOSED HOLLYWOOD POOP PIPE SEE YOUTUBE VIDEO OF POMPANO POOP PIPE
Deerfield-News.com-Deerfield Beach, Fl-While anyone who has been to Deerfield Beach recently knows we have a dirty sand problem. Our sand is filled with cigarette butts, plastics, dirty needles and more. We have so much crap on our beach we enlist tourists and citizens alike to try and clean our sand. Instead of handing out buckets and swag as a prize to collect trash maybe we should get the proper beach tractor at whatever cost. Deerfield Beach who wastes more money on nonsense has refused to purchase the state of the art no pulverizing extracting version of a tractor. All that said our biggest problem may not be a dirty filthy beach, but our polluted oceans.
We have had a rough summer with excess seaweeds across South Florida. Several factors could explain the proliferation of Sargassum in the area in recent years. These include the rise of sea temperature and the change of sea currents due to climate change. Also, nutrients from agricultural fertilizers and wastewater from the cities that end up in the sea could also make the algae bloom. ( Google-News)
In the last few weeks, Dade county has had to close eight popular beaches to swimmers due to poop contamination. Now those of you that are familiar know we have sewage spewing just south of us in Pompano "The Pompano Poop Pipe" as shown is to our south. Then we have our neighbors up in Lake Worth spewing from the north. Question is just how safe is swimming in our ocean at this time?
Update-as many of you know the  Florida Department of Health has issued a "BEACH ADVISORY" for Deerfield Beach this past week.
We have contacted the city of Deerfield Beach recently about the sand issue and here is their response from Director of Communications Rebecca Medina Stewart.
"The beaches are raked 365 days per year.  It is important to understand that crews are not allowed to rake until getting the "all clear"  from the Turtle Watch Inspectors during turtle season.  Some days, the inspections aren't completed until after 9:00 a.m. limiting the time staff can safely rake the beach avoiding sunbathers and other beach visitors.   As far as the equipment is concerned, Parks is currently evaluating the existing equipment. Any decision to update machinery will be done in the next budget cycle. "
HOPEFULLY THE RESULTS DUE IN TODAY FROM THE FLORIDA DEPARTMENT OF HEALTH WILL SHOW THE WATER IS SAFE TO SWIM IN AGAIN.