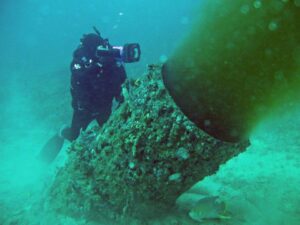 PHOTO-REDDIT.COM-NOW CLOSED HOLLYWOOD POOP PIPE SEE YOUTUBE VIDEO OF POMPANO POOP PIPE
Deerfield-News.com-Deerfield Beach, Fl-While anyone who has been to Deerfield Beach recently knows we have a dirty sand problem. Our sand is filled with cigarette butts, plastics, dirty needles and more. We have so much crap on our beach we enlist tourists and citizens alike to try and clean our sand. Instead of handing out buckets and swag as a prize to collect trash maybe we should get the proper beach tractor at whatever cost. Deerfield Beach who wastes more money on nonsense has refused to purchase the state of the art no pulverizing extracting version of a tractor. All that said our biggest problem may not be a dirty filthy beach, but our polluted oceans.
We have had a rough summer with excess seaweeds across South Florida. Several factors could explain the proliferation of Sargassum in the area in recent years. These include the rise of sea temperature and the change of sea currents due to climate change. Also, nutrients from agricultural fertilizers and wastewater from the cities that end up in the sea could also make the algae bloom. ( Google-News)
In the last few weeks, Dade county has had to close eight popular beaches to swimmers due to poop contamination. Now those of you that are familiar know we have sewage spewing just south of us in Pompano "The Pompano Poop Pipe as shown is to our south. Then we have our neighbors up in Lake Worth spewing from the north. Question is just how safe is swimming in our ocean at this time? Many have fears of the flesh-eating bacteria that has surfaced in the last few years. Here are some comments from locals on our Deerfield Beach  Facebook group locals.
Is it safe to swim in the ocean if you have a small cut ?
Some people are telling me to cancel a fun day in the boat because some flesh eating bacteria ???‍♀️