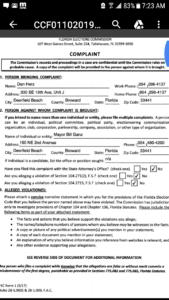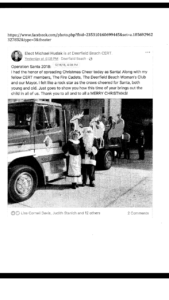 Deerfield-News.com-Deerfield Beach, Fl-We received a copy of a Florida Election Commission complaint against Mayor Ganz. The complaint alleges Deerfield Beach Mayor Ganz violated election laws when he decided to hand pick Deerfield Beach commission candidate  Michael Hudak to play Santa Claus. Really, seems you can not do that according to Florida Statutes. Give a political opportunity to gain influence of the electorate on official business is clearly a violation of Florida statute 104.31(1) (a). No city official should be allowed to offer special opportunities to individual candidates for office.
On Sunday, December 16, 2018, Mayor Ganz of Deerfield Beach in an official act publicly appeared on a Broward County Sheriffs Office fire engine visiting city parks. City Commission candidate Michael Hudak was given significant visibility by appearing in this official act along with the Mayor.
The complaint makes several points but none more important than no other candidate for any Commission seat was offered this special honor, which seems to violate the statute.
Mr.Hudak acknowledges the violations by publishing photos with a story on his social media as well as Mayor Ganz he too acknowledges the infractions with photos and print on social media.
These election law violations are a misdemeanor and criminal.