---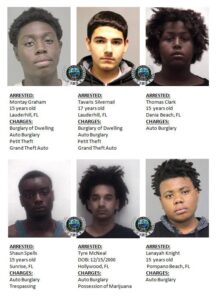 Deerfield-News.com-Deerfield beach,fl-From Boca Police-
Our detectives have been busy over the past week. The common themes in these cases are unlocked cars and key fobs/keys left in vehicles.
17-year-old Tavaris Silvernail and 15-year-old Montay Graham were charged with Burglary of a Dwelling, Auto Burglary, and Petit Theft for crimes committed in Boca Madera. The two were also charged with Auto Burglary and Grand Theft Auto after they stole a vehicle from Boca Harbour. The vehicle was unlocked and a key fob was left inside.
15-year-old Thomas Clark was charged with Auto Burglary after he entered three vehicles in a driveway in Blue Inlet. The vehicles were unlocked and a handgun was taken.
18-year-old Tyre McNeal and 15-year-old Shaun Spells were charged with Auto Burglary after they were observed trying vehicle door handles in Vistazo. When officers made contact with McNeal, he was occupying an unreported stolen vehicle from Vista Hills. The vehicle was unlocked and a key fob was left inside.
15-year-old Lanayah Knight was charged with multiple counts of Auto Burglary for crimes committed in Palm Beach Farms, Camino Lakes and Camino Gardens.
I'm proud of our officers, and we are going to keep up our intensive patrol and investigative efforts. We really need your help.
Remember to remove your valuables and key fobs from your vehicles before locking your car doors. If you see something, say something. Be our eyes and ears so we can get officers to the problem right away.
Thank you for your help. Let's be careful out there.