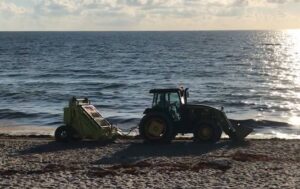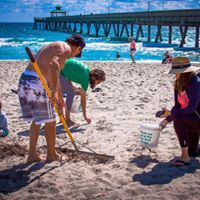 Watch Video!!! Courtesy- Tatiana Hoskin
Deerfield-News.com-Deerfield Beach, Fl-Ok the red tide is gone now we are just back to a dirty beach. Deerfield-News.com has received several emails over the past six months as well as this post from today on this topic. Deerfield Beach needs to clean up its act, the beach can be kept in better condition. We have had several posts on this topic we remember the rake was broken and suggested the city borrow Boca's. Some citizens have suggested it is our raking system may be part of the problem as it apparently shreds?
Deerfield Beach needs to do a better job of maintaining our beach and its cleanliness. The amount of trash in the sand at Deerfield Beach is not acceptable. The city of Deerfield Beach can and must step up its game.
Citizens and tourists should do their part as well when using the beach.
From-Tatiana Hosken via Facebook.
Today was a beautiful day to enjoy a day at the beach, but when my family and I got there (Deerfield Beach) we found this…miles of seaweed mixed with garbage, A LOT of garbage and a lot of plastic! Now, if that garbage doesn't get picked up soon it's all going back to the ocean, killing more fishes and sea life!! That's really sad! Hey, humans, we are killing the ocean! @4ocean @cityofdeerfieldbeach can you help us clean our beach? Can we get a group of volunteers and get the job done?