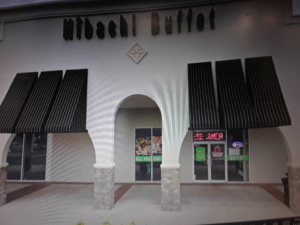 Deerfield -News.com-Deerfield Beach, Fl-Recent State of Florida health inspection reports for local Deerfield Beach eateries, this week Sub-way with a perfect score. Cafe Med by Bice also had a perfect inspection with 0 violations found. This months Dirty In Deerfield Beach goes to "HIBACHI BUFFET" on West Hillsboro Boulevard, not the first time this place has had issues.
Name:

SUBWAY #31730

License Number:

SEA1621597

Rank:

Seating

License Expiration Date:

12/01/2018

Primary Status:

Current

Secondary Status:

Active

Location Address:

1305 S MILITARY TRL
DEERFIELD BEACH, FL 33442
Inspection Type
Inspection Date
Result
High Priority Violations
Intermediate Violations
Basic Violations

Routine – Food

10/22/2018

Met Inspection Standards




During This Visit


More information about inspections.


0

0

0
Violations:
A summary of the violations found during the inspection are listed below. The department cites violations of Florida's sanitation and safety laws, which are based on the standards of U.S. Food and Drug Administration's Food Code. High Priority violations are those which could contribute directly to a foodborne illness or injury and include items such as cooking, reheating, cooling and hand-washing. Intermediate violations are those which, if not addressed, could lead to risk factors that contribute to foodborne illness or injury. These violations include personnel training, documentation or record keeping and labeling. Basic violations are those which are considered best practices to implement. While most establishments correct all violations in a timely manner (often during the inspection), the division's procedures are designed to compel compliance with all violations through follow-up visits, administration action or closure when necessary.
Violation
Observation
N/A

No Violations Were Observed

Name:

CAFE MED BY BICE

License Number:

SEA1622990

Rank:

Seating

License Expiration Date:

12/01/2019

Primary Status:

Current

Secondary Status:

Active

Location Address:

2096 NE 2 ST
DEERFIELD BEACH, FL 33441

Name:

HIBACHI BUFFET

License Number:

SEA1621239

Rank:

Seating

License Expiration Date:

12/01/2019

Primary Status:

Current

Secondary Status:

Active

Location Address:

4026 W HILLSBORO BLVD
DEERFIELD BEACH, FL 33442

Inspection Type
Inspection Date
Result
High Priority Violations
Intermediate Violations
Basic Violations

Complaint Full

11/07/2018

Follow-up Inspection Required




Violations require further review, but are not an immediate threat to the public.


More information about inspections.


6

0

3

Violations:

A summary of the violations found during the inspection are listed below. The department cites violations of Florida's sanitation and safety laws, which are based on the standards of U.S. Food and Drug Administration's Food Code. High Priority violations are those which could contribute directly to a foodborne illness or injury and include items such as cooking, reheating, cooling and hand-washing. Intermediate violations are those which, if not addressed, could lead to risk factors that contribute to foodborne illness or injury. These violations include personnel training, documentation or record keeping and labeling. Basic violations are those which are considered best practices to implement. While most establishments correct all violations in a timely manner (often during the inspection), the division's procedures are designed to compel compliance with all violations through follow-up visits, administration action or closure when necessary.

| | | |
| --- | --- | --- |
| Violation | | Observation |
| 40-06-4 | | Basic – Employee personal items stored in or above a food preparation area. Observed employee beverage container on shelf in cookline. Employee removed beverage. **Corrected On-Site** **Warning** |
| 10-07-4 | | Basic – In-use utensil stored in standing water less than 135 degrees Fahrenheit. Observed Water at 90°F, in sushi and raw bar area in buffet area. Cook reheated water to above 135°F **Corrective Action Taken** **Repeat Violation** **Warning** |
| 06-05-4 | | Basic – Potentially hazardous (time/temperature control for safety) food thawed in standing water. Observed: Beef in prep sink in standing water. Cook turn water on in sink. **Warning** |
| 01B-01-4 | | High Priority – Dented/rusted cans present. See stop sale. Observed: Four Dented #10 cans of mandarin orange on can rack close to back door. **Repeat Violation** **Warning** |
| 22-41-4 | | High Priority – Dishmachine chlorine sanitizer not at proper minimum strength. Discontinue use of dishmachine for sanitizing and set up manual sanitization until dishmachine is repaired and sanitizing properly. Observed: Dish machine at 0 ppm. Chlorine solution was replenished. Dishmachine at 100 ppm. **Corrected On-Site** **Warning** |
| 03A-02-4 | | High Priority – Potentially hazardous (time/temperature control for safety) food cold held at greater than 41 degrees Fahrenheit. Observed Pasta 59°F in flip top cooler at cookline. Per cook pasta was taken out of walk in cooler at 10:30 am. Pasta was reheated to 174°F. **Corrected On-Site** **Repeat Violation** **Warning** |
| 01B-19-4 | | High Priority – Potentially hazardous (time/temperature control for safety) food controlled by time and required to be marked with the use by time is not marked and the required time of disposal cannot be determined. See stop sale. Potentially hazardous (time/temperature control for safety) food identified in the written procedure as a food held using time as a public health control has no time marking and the time removed from temperature control cannot be determined. Observed Sushi rice in sushi bar area with no time marking. Per cook rice was made at 8:30 am. Cook place time marking on rice. Potentially hazardous (time/temperature control for safety) food held using time as a public health control not discarded at the end of the 4-hour/6-hour period. See stop sale. Observed 14 Eel sushi rolls and 14 Salmon sushi rolls in flip top cooler at Sushi Bar. Per Cook sushi rolls were from last night **Warning** |
| 03F-02-4 | | High Priority – Potentially hazardous (time/temperature control for safety) food identified in the written procedure as a food held using time as a public health control has no time marking and the time removed from temperature control cannot be determined. Observed Sushi rice in sushi bar area with no time marking. Per cook rice was made at 8:30 am. Cook place time marking on rice. Potentially hazardous (time/temperature control for safety) food held using time as a public health control not discarded at the end of the 4-hour/6-hour period. See stop sale. Observed 14 Eel sushi rolls and 14 Salmon sushi rolls in flip top cooler at Sushi Bar. Per Cook sushi rolls were from last night. See stop sale.**Repeat Violation** **Repeat Violation** **Warning** |
| 08A-09-4 | | High Priority – Raw animal food stored over ready-to-eat food in walk-in cooler. Observed Raw beef over dinner rolls in walk in cooler # 1. Employee properly stored Beef. **Corrected On-Site** **Warning** |

Inspection Type
Inspection Date
Result
High Priority Violations
Intermediate Violations
Basic Violations

Routine – Food

10/05/2018

Met Inspection Standards




During This Visit


More information about inspections.


0

0

0

Violations:

A summary of the violations found during the inspection are listed below. The department cites violations of Florida's sanitation and safety laws, which are based on the standards of U.S. Food and Drug Administration's Food Code. High Priority violations are those which could contribute directly to a foodborne illness or injury and include items such as cooking, reheating, cooling and hand-washing. Intermediate violations are those which, if not addressed, could lead to risk factors that contribute to foodborne illness or injury. These violations include personnel training, documentation or record keeping and labeling. Basic violations are those which are considered best practices to implement. While most establishments correct all violations in a timely manner (often during the inspection), the division's procedures are designed to compel compliance with all violations through follow-up visits, administration action or closure when necessary.

| | | |
| --- | --- | --- |
| Violation | | Observation |
| N/A | | No Violations Were Observed |