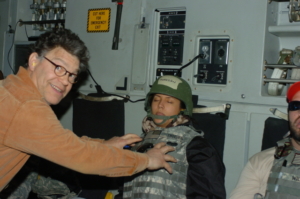 Deerfield-News.com-Deerfield-Beach,FL-Die hard SNL fans and Democrats alike are disappointed and disgusted with Senator Frankens behavior.As a Senator who has advocated against sexual harrassment in the workplace or any place he should have known better.Washington , D.C is rife with this behavior both parties have their own probelms as Republicans continue to defend Judge Moore's Behavior is repulsive and disgusting he should not become a US  Senator and those who are defending him are just wrong.
Senator Franken should and must  be investigated by the ethics committee.There is no room in any worklplace, especially in our government Federal, State or City.Nowhere should this be acccepted.The Senator who has been laying low today since the news broke did apologize in a statement today.I am sure Senator Franken is not the only one who has committed sexual harrassment on Capitol Hill.
I think the floodgates are just opening and many of our elected officials will have some problems ahead.We are going to see video and pictures galore surfacing of politicans on all levels comitting sexual harrassment or worse..
This is a quote from the victim of Senator Al Franken Leeann Tweeden
By Leeann Tweeden-
In December of 2006, I embarked on my ninth USO Tour to entertain our troops, my eighth to the Middle East since the 9/11 attacks. My father served in Vietnam and my then-boyfriend (and now husband, Chris) is a pilot in the Air Force, so bringing a 'little piece of home' to servicemembers stationed far away from their families was both my passion and my privilege.
I couldn't believe it. He groped me, without my consent, while I was asleep.
I felt violated all over again. Embarrassed. Belittled. Humiliated.
How dare anyone grab my breasts like this and think it's funny?
I told my husband everything that happened and showed him the picture.
I wanted to shout my story to the world with a megaphone to anyone who would listen, but even as angry as I was, I was worried about the potential backlash and damage going public might have on my career as a broadcaster.
But that was then, this is now. I'm no longer afraid.
Today, I am the news anchor on McIntyre in the Morning on KABC Radio in Los Angeles. My colleagues are some of the most supportive people I've ever worked with in my career. Like everyone in the media, we've been reporting on the Harvey Weinstein sexual misconduct allegations since they broke, and the flood of similar stories that have come out about others."
Sexual harrassment is not acceptable behavior from anyone a sitting Senator or one who wants to be one.Nor from any President,"Houston we have a problem".