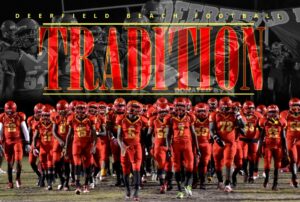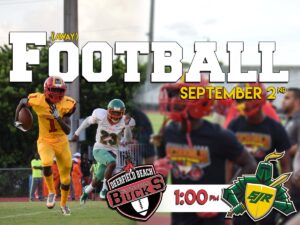 Deerfield-News.com-Deerfield Beach,Fl-In an away game in the Garden State,DBHS suffered it's first loss in Montvale NJ against St Joseph's High School.
St Joseph's had the score to 21-0 in just the first quarter.St. Joseph's Green Knight's are the number one ranked New Jersey Non Public High School football team.Unfortunately our Buck's found out why last night.
St. Joseph only had a 304-267 edge in total yards, as Bucks running back Jaylen Knighton had 138 rushing yards on 21 carries. He was 16-132 in the first half before the SJR defense adjusted and shut down the inside. Montavale's QB Patti was 8 of 18 for 144 yards and two scores, the second a nice fake and pass to Ciarlo on a skinny post. He a handful of drops, including two potential touchdown bombs.Montvale receiver Matt Alaimo had 4 catches for 86 yards.
Final score 44-21 Montvale on top.The Deerfield Beach Bucks have an away non-conference game @ rival school Blanche Ely (Pompano Beach, FL) on Saturday, September 9 @ 7pm.