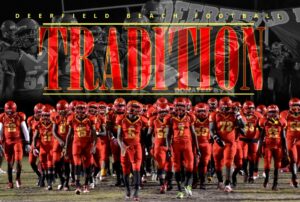 Deerfield-News.com-Deerfield Beach,Fl- Tonight in a shortened game DBHS Bucks beat Chaminade Lions 10-7.The game which was shortened and Chaminade pulled most of their first string players at the half, gave the Bucks a win tonight.Bucks scored their only points of the first half on a 23-yard field goal by junior kicker Linden Rivera.
DBHS Senior receiver Jaycob Williams caught the game-winning 40-yard touchdown pass from junior quarterback Tyron Herring to win it for the Bucks 10-7.Coach Glenn said it was more of a practice ,than a game.
Next week Deerfield Beach Bucks will open the season against nationally-ranked Carol City next Friday at Traz Powell Stadium.