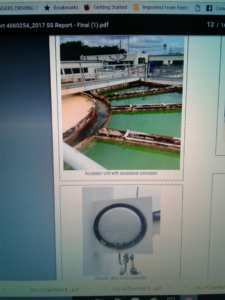 Deerfield-News.com-Deerfield Beach,Fl-Here is what The City of Deerfield Beach posted below to their e alerts.
We have read their post and hope when they refer to false reports they were not talking about Deerfield-News.com and our reporting of the city water treatment plant.
We stand by everything published and we are still waiting for more public records and your back up plan.
We said the city of Deerfield Beach has rust problems we published what we received in a public records request,certainly those photos show rust ,the report speaks for itself as do the photos.
Not to mention how untimely your post was(City of Deerfield Beach),coincidence that you only sent the alert on August 15Th to notify the public after our posts in Deerfield-News.com.
Here are the emails for the current pending public records request one to The City of Deerfield Beach the other to The State of Florida Department of Health.
Subject:
RE: Important: Public Records Request
From:
(Add as Preferred Sender)
Date: Thu, Aug 17, 2017 3:14 pm
To: "Eichner, Paul D" , "Paul Eichner"
Cc: "Candy Sims"
Mr Eichner,
We respectfully request any and all public records that would show what the city of Deerfield Beach has as a backup plan for our water treatment system if put out of service for repairs.
Where does the city of Deerfield Beach get it's water from?
Thanks,
Howard Levy
Deerfield-News.com
From:
Heather Montemayor (Remove Preferred Sender)
Date: Wed, Aug 16, 2017 12:43 pm
To: "news@deerfield-news.com"
Cc: Samantha Gillyard
Hello,
We are in receipt of your below email and will notify you once it is ready.
Thanks!
LOGO – PAINT
Heather Montemayor
Assistant City Clerk
City of Deerfield Beach
150 NE 2nd Avenue
Deerfield Beach, FL 33441
P: 954.480.4213
F: 954.480.4323
From: news@deerfield-news.com [mailto:news@deerfield-news.com]
Sent: Wednesday, August 16, 2017 3:15 PM
To: Heather Montemayor
Subject: Deerfield Beach water treatment back-up plan
Hello Heather,
Please forward all public records pertaining to the city of Deerfield Beach water treatment facility ,back-up plan or repair plan showing where and from whom the city can obtain water during a system shut down.
Thanks,
Howie
Deerfield-News.com
The City of Deerfield Beach is governed by the Public Records Act as set forth in Chapter 119, Florida Statutes. Emails and email addresses are subject to the Public Records Act and are public records subject to disclosure. All emails, and any corresponding email addresses, sent or received are retained by the City of Deerfield Beach as public records. If you do not want your email or email address released in response to a public records request, do not send electronic mail to this entity. Instead, contact the City Clerk's office by phone at 954-480-4213 or in writing.
FROM THE CITY OF DEERFIELD BEACH-E Alerts
City News & Events
Posted on: August 15, 2017
City Continues to Process High Quality Water
In its ongoing effort to bring residents and business owners of Deerfield Beach transparent and accurate information, the City would like to clarify false reports that are circulating in the community suggesting that the City Water Plant is no longer producing high-quality water and on the verge of shutting its doors. It is imperative that citizens know that Deerfield Beach continues to be in compliance with federal health-based drinking water standards. Furthermore, the City trusts that the water plant which serves nearly 79-thousand residents, hundreds of businesses and the Publix grocery chain will continue to operate and deliver some of the highest quality water that it is known to deliver, for many years to come.
In June 2017, the Florida Department of Health in Broward County conducted a three-day, top to bottom inspection of the water plant facility. The Health Department conducts this type of inspection every two years. Inspectors check the entire water treatment process, raw water wells, water storage tanks, pumps & controls, the distribution system, operator qualifications, and overall water system management. Health department inspectors found 26 areas of concern, none of which, compromised the water treatment system. Nearly every item of concern was corrected within days of the inspection and to date there are six outstanding items.
1- Update color coding of pipe
2- Evaluate/repair nominal bubbling at ground storage water tank
3- Resurface the floor in the chemical storage area
4- 5-year water storage tank structural inspection
5- Rehabilitate water troughs in clarifier
6- Update emergency response plans for specific incidents such as vandalism and drought conditions
The City has all corrective actions scheduled for completion by September 30, 2017 with the exception of the water trough rehabilitation in the clarifier. The rusting water trough is at the beginning of the treatment process prior to any filtration sequence. The natural occurrence of rust is not unusual in a lime softening process and does not affect the treatment process. In fact, the City tests for Iron (rust) in the drinking water distribution system twice a week. For this year (2017), the range is from 0.02 mg/L to 0.06 mg/L, which is well below the 0.3 mg/L Maximum Contaminant Level mandated by the EPA.
The water trough rehabilitation will be completed during regular plant operations, allowing the facility to continue to process and produce clean and high-quality drinking water. The rehabilitation will utilize stainless steel components to help reduce the occurrence of rusting in the future and is expected to be completed by March 2018.
Deerfield Beach takes public health matters very serious. The City's top priority is the safety and well-being of its citizens. Therefore, we welcome these kinds of checks and balances so that we can continue to improve our equipment, our facilities and our services.
If you have any questions or concerns please contact Environmental Services Director, Tom Good at tgood@deerfield-beach.com or call 954.480.4270.