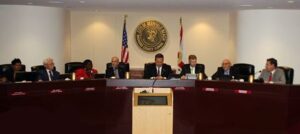 Deerfield-News.com-Deerfield Beach,Fl-After a contentious campaign and a small voter turnout ,Deerfield Beaches new Mayor and Commisioners took office today.
As the City of Deerfield Beach has grown by leaps and bounds ,its citizens turned out in extremely low numbers in the citywide election..
This evenings City Commision meeting our new Mayor Bill Ganz is now at the helm of Deerfield Beach.
Also newly elected City Commissioners-,District 3 Commissioner – Bernie Parness and District 4 Commissioner – Todd Drosky were for the first time as elected Deerfield officials at tonights meeting.
Longtime Mayor Jean Robb had decided not to run for health reasons,
Deerfield-News.com wishes our new Mayor and Commissioners all the best.,