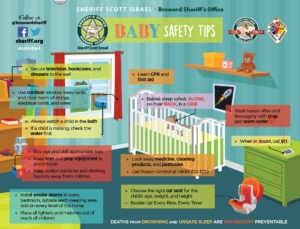 Deerfield-News.com-Deerfield Beach,Fl-  Sheriff Israel today was at  BSFR Station 102, 1441 SW 11th Way, Deerfield Beach, to discuss #BSO's #SafeSleep initiative.
As part of the Broward Sheriff's Office Keeping Kids Safe initiative, Sheriff Scott Israel has partnered with Healthy Mothers Healthy Babies Coalition of Broward County (HMHB) to bring safe sleep education and free cribs to at-risk families throughout the county.
"All child deaths are tragic, but when a death is preventable, one life lost is too many. As first responders we regularly go into people's homes. That means that we have the unique opportunity to provide resources and education to parents and aid in the fight to ensure that each baby in Broward County is safe," Sheriff Scott Israel said.
BSO's Keeping Kids Safe initiative is focused on educating the community on safe sleeping conditions, drowning prevention, fire safety and motor vehicle safety.
During the summer of 2016, Broward Sheriff Fire Rescue and 600 BSO deputies were trained on assessing homes for unsafe conditions. When needed, deputies and BSFR personnel can provide families with child safety education, a free crib and a referral for follow-up services with HMHB.
"Over the past two years, Broward County has seen 34 sleep-related deaths which would have been prevented if parents followed the ABC's of Safe Sleep. Babies need to be ALONE, on their BACK and in an empty CRIB," said Michelle Reese, HMHB Executive Director.