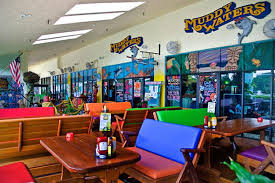 Deerfield-News.com-Deerfield Beach ,Fl-One of Deerfield Beaches busiest sports bars again with a weak health inspection report .
C'mon JBirds Muddy waters you can do better.Deerfield Beach deserves the cleanest eateries possible at all times.With the new Vico's right around the corner also with a bad report, I guess we will take at look on US1 at the Sports Bars.
Name:

MUDDY WATERS RESTAURANT

License Number:

SEA1614394

Rank:

Seating

License Expiration Date:

12/01/2017

Primary Status:

Current

Secondary Status:

Active

Location Address:

2237 W HILLSBORO BLVD
DEERFIELD BEACH, FL 33442-1106
Inspection Type
Inspection Date
Result
High Priority Violations
Intermediate Violations
Basic Violations

Routine – Food

10/01/2016

Met Inspection Standards




During This Visit


More information about inspections.


3

2

3
Violations:
A summary of the violations found during the inspection are listed below. The department cites violations of Florida's sanitation and safety laws, which are based on the standards of U.S. Food and Drug Administration's Food Code. High Priority violations are those which could contribute directly to a foodborne illness or injury and include items such as cooking, reheating, cooling and hand-washing. Intermediate violations are those which, if not addressed, could lead to risk factors that contribute to foodborne illness or injury. These violations include personnel training, documentation or record keeping and labeling. Basic violations are those which are considered best practices to implement. While most establishments correct all violations in a timely manner (often during the inspection), the division's procedures are designed to compel compliance with all violations through follow-up visits, administration action or closure when necessary.
| | | |
| --- | --- | --- |
| Violation | | Observation |
| 24-08-4 | | Basic – Equipment and utensils not properly air-dried – wet nesting. Inserts |
| 23-08-4 | | Basic – Soda gun holster with accumulated slime/debris. In bar. **Corrected On-Site** |
| 14-17-4 | | Basic – Walk-in cooler/freezer shelves with rust that has pitted the surface. Produce cooler. |
| 12A-10-4 | | High Priority – Employee touched bare body part and then engaged in food preparation, handled clean equipment or utensils, or touched unwrapped single-service items without washing hands. **Corrected On-Site** |
| 03A-02-4 | | High Priority – Potentially hazardous (time/temperature control for safety) food cold held at greater than 41 degrees Fahrenheit. Chicken 44°in cookline cooler, operator place ice on chicken. **Corrective Action Taken** |
| 12A-09-4 | | High Priority – Single-use gloves not changed as needed after changing tasks or when damaged or soiled. Cook touch his face with his glove. **Corrected On-Site** |
| 22-01-4 | | Intermediate – Soda gun soiled. In bar. **Corrected On-Site** |
| 41-17-4 | | Intermediate – Spray bottle containing toxic substance not labeled. Degreaser in kitchen,. **Corrected On-Site** |