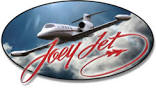 Deerfield-News.com-Deerfield Beach- Lear jet pilot Joseph Tiritilli,AKA JoeyJet has written a new book about flying a Lear jet and being pilot to the rich and famous.
Tiritilli 57, originally from Totowa, New Jersey moved to Deerfield Beach in the eighties.The book is about Joeys adventures from the small town of Totowa and his growing up in the shadow of NYC,learning how to fly,flying and  how this small town kid made  good in South Florida as Pilot to The Stars.
In addition to flying, Joey Jet has many hobbies from Amateur radio to pinball and arcade games collector,motorcycle rider and more.
JoeyJet has now been flying more than a quarter century and has thousands of hours logged as the PIC of the Lear Jet.
So as Joey says Buckle, up for the Read I mean Ride of your life.
Book Available on Amazon.com and at bookstores everywhere.
The Book On Flying A Learjet
Joey Jet's Memories
Authored by Joseph Tiritilli
Edition: 1
Joseph Tiritilli, aka Joey Jet, exemplifies the success possible in America today by using ambition, a willingness to take risk, and a strong work ethic to make the most of available opportunities.
Joey Jet came up the hard way in Totowa, New Jersey; fifteen miles from Manhattan, the heart of New York City. His grandfather a blacksmith in a Pennsylvania coal mine; his father an honest, hard working truck driver; and his mother a professional switchboard operator, Joey left school at sixteen. He became a three time small business owner/operator, soloed at Lincoln Park, New Jersey N07, and became a private pilot by age twenty-five.
Moving to Deerfield Beach, Florida, Joey Jet continued learning to fly at Pompano Beach Airpark's Pompano Air Center, earning his Commercial Airplane license and becoming a Certified Flight Instructor under the tutelage of R. Dan Baker. Joey learned to fly Learjets when he was hired by Harvey N. Hop at Fort Lauderdale's Hop-A-Jet, Inc.
Joey Jet has been a Learjet Captain flying the rich and famous throughout the United States, Canada, Mexico and the Caribbean for more than twenty-five years. Fasten your seatbelt and enjoy this compilation of stories from some of Joey Jet's most memorable flights.
Stories include James Patterson, Roger King, Puff Daddy Imposter,
James Lovell, Billy Joel, Enrique, Paris Hilton, Suze Orman, John Schnatter – Papa John's Pizza, Jackie Mason, Denzel Washington, Paulina Porizkova, Diana Ross, Shakira, Henryk de Kwiatkowski, Lee Greenwood, Elie Wiesel, Preston Henn, Patrick Park, Robert Redford, Don Whittington, Dear Abby, General H. Norman Schwarzkopf, Shane Sellers, Gary Player, Ted Williams, Dick Vitale, Joe Namath,
Emerson Fittipaldi, Don King, James Stewart Jr. , Mike Ditka, Pat Riley, Joe Amato, Jeb Bush, Govenor Jim Geringer, Governor Bill Richardson, Senator John Edwards, plus some other stories.