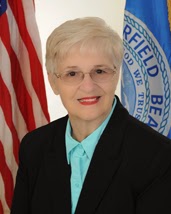 Deerfield-News.com Deerfield Beach Fl,-Mayor Robb is still Mayor of Deerfield Beach.
After a scathing report from Broward County INSPECTOR GENERALS  OFFICE about the Mayor violating ethics laws, the Deerfield Beach City Commission chose not to remove the Mayor from office.This was the first option for removal from office preceding any judicial procedures that may or may not occur. As Deerfield-News.com reported earlier the Mayor, has retained Fort Lauderdale high powered criminal defense attorney David Bogenshutz,just in case.
Mayor Jean Robb who was Deerfield Beach Mayor from 1980-1993 and then returned to city office in 2013,was popular in the eighties and nineties as well as today.Mayor Robb now 82 often outspoken and controversial,has popular support from Deerfield Beach residents from all over the city.
Deerfield-News.com  spoke with over 3 dozen residents of Deerfield Beach at random we found none that were calling for the Mayors removal from office, to the contrary every one of the people we spoke to was an avid Mayor Robb supporter.Many long time residents remember the mayors late husband prominent Deerfield Beach physician Dr Leo Robb.Who served the community as well as did the Mayor.
It seems Deerfield Beach Mayor Robb may have more teflon, then the late Don John Gotti.Mayor Robb and her popularity seem to run very deep with Deerfield Beach voters,her support is nothing short of incredible from her constituents.